6-10-1 Nishi-Shinjuku Shinjuku-ku,
Tokyo,
Japan
Level 8, Nittochi Nishi-Shinjuku Building
Office Space at Shinjuku Oak City
Nishi-Shinjuku, or West Shinjuku, is known as Tokyo's skyscraper business district full of high-rise buildings. The Shinjuku Oak City is only a 3 minute walk from Nishi-Shinjuku station on the Marunouchi subway line and also within walking distance to Shinjuku station connected with six JR lines, Keio line, Odakyu line and three subway lines, providing our clients a convenient commute to any area in Tokyo as well as other cities in Japan.
The Shinjuku Oak City has a stunning blue glass facade and a large staircase at its entrance. The building is joined with Shinjuku Oak Tower by an impressive high ceiling glass arcade and both buildings share the same amenities, parking and restaurant facilities. Servcorp's location on the 8th floor has a sleek and modern look with granite stone flooring, mirrors and coloured glass walls, yet at the same time a warm and elegant ambiance with wooden framework throughout the floor.
From Narita International Airport: 90 min by Narita Express to Shinjuku Station. 95 min by Airport Limousine bus to Hilton Tokyo Hotel. From Haneda Airport (Tokyo International Airport): 16 min by Keikyu Line Airport Limited Express to Shinagawa Station, 20 min by JR Line from Shinagawa Station to Shinjuku Station. 45 min by Airport Limousine bus to Hilton Tokyo Hotel.
3 min walk from exit 2 of Nishi-Shinjuku Station on Tokyo Metro Marunouchi Line. 5 min walk from exit 2 of Tochomae station on Toei Oedo Line by underground passage. 10 min walk from West Gate of Shinjuku Station. (11 routes available by JR Line, Keio Line, Odakyu Line, Toei Subways, Narita Express)
TOEI BUS: Tokyo Idai Byoin Mae. Bus Stop (2 min walk) : SHUKU91/OU78. SEIBU BUS: Tokyo Idai Byoin Mae. Bus Stop (2 min walk) : SHUKU20.
---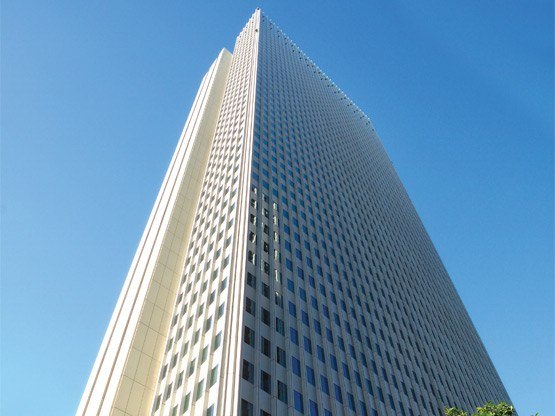 Our clients love:
Location, in the heart of Shinjuku, one of the most bustling business districts in the world.
Impressive glass-arcaded lobby of the building.
The spectacular original artwork of modern city scapes painted on a gold background.
Glass sliding doors of each office, creating a larger space then when using traditional doors.
Great access to transportation.  The closest station, Nishi-Shinjuku Station, on Metro Marunouchi Line directly takes you to Tokyo's major areas such as Tokyo, Otemachi, Ginza, Shinjuku and Ikebukuro.
Short walking distance to Shinjuku station, the busiest train station in the world, with nearly 4M commuters per day and well over 200 exits!
Endless choices for entertainment. Shinjuku is also known as a major shopping and dining area. With several large department chains and countless number of restaurants. Of all places in Tokyo, you can find everything in Shinjuku.
---
Within 5 minutes walking distance:
Tully's Coffee
Tokyo Mitsubishi UFJ Bank
Mitsui Sumitomo Bank
Yokohama Bank
Hyatt Regency Tokyo Hotel
Hilton Tokyo Hotel
Odakyu Southern Tower Hotel
Post office
Tokyo Medical University Hospital
Restaurants
Recommended lunch places:

New York Grill (Fusion Cuisine)
http://www.parkhyatttokyo.com/Facility/Restaurant/newyorkgrill.html
TEL: +81 3 5322 1234

Kakou (Japanese)
http://tokyo.regency.hyatt.com/
TEL: +81 3 3348 1234

Dynasty (Chinese)
http://www1.hilton.com/
TEL: +81 3 3344 5111