Let Servcorp Community take you places
Receive up to 20,000 Virgin Airlines Velocity Points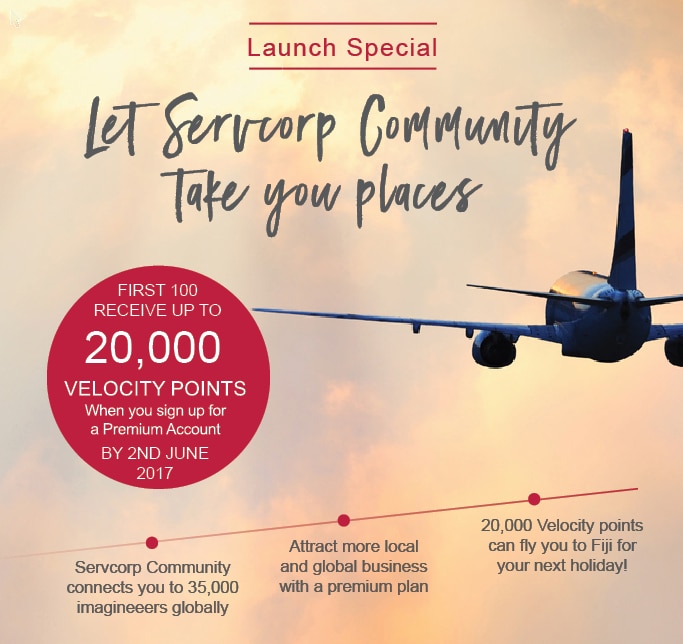 First 100 sign-ups receive up to 20,000 Virgin Airlines "Velocity Points"!  
Sign up for 3 months and receive 10,000 points
Sign up for 6 months and receive 15,000 points
Sign up for 12 months and receive 20,000 points
HURRY! A TOTAL OF 2.5 MILLION VELOCITY POINTS TO BE GIVEN AWAY 
Terms and Conditions:
The promotion commences Monday, 1st of May 2017 and ends Friday, 2nd of June 2017
Participants:
This promotion is open to existing Servcorp clients only in Australia and New Zealand
The first 100 sign ups will receive Velocity points
All eligible purchasers must have an existing or create a Velocity account to access their Velocity points
Promotion
To be eligible to receive Velocity points, clients are to sign up and pay for the Premium Community account by Friday, 2nd of June 2017

Clients who sign up for 3 months will receive 10,000 Velocity points
Clients who sign up for 6 months will receive 15,000 Velocity points
Clients who sign up for 12 months will receive 20,000 Velocity points
A total of 2.5 million Velocity points will be given away as part of this promotion
Clients will receive their Velocity points no later than 31st of July 2017.
 Liability Terms
The prize, or any unused portion of the prize, is not transferable or exchangeable and is not redeemable for cash.
If the prize (or part of the prize) is unavailable, the Promoter, in its discretion, reserves the right to substitute the prize (or that part of the prize) with a prize to the equal value and specification, subject to any written directions from a regulatory authority.
The promoter accepts no responsibility for any tax implications that may arise from the prize winnings. Independent financial advice should be sought.
Promotion changes
Servcorp may at any time make changes to the Terms, prizes or liability conditions at its sole and absolute discretion
Servcorp will give you at least 14 days notice of any material changes to these Terms and Conditions.